subtlenoisemaker
cacophonator ii (silver)

price : $425.00


the cacophonator design is used with permission from the designer, arthur harrison, by specific license agreement.

handmade electronic music synthesizer, effect pedal and noisebox for creating unique sounds and effects by intuitive handling. with soundinput for weird treatment of your samples or whatever input (guitar, bass, radio...). also makes noise and distinctive sounds without input as stand alone sonic device.

each of the six oscillators inside affect each other. the prevailing function of the circuit changes from a deterministic to stochastic mode, increasingly difficult to predict complex in behavior. it permits the user to increase the power supply impedance intentionally, and therefore the degree of interaction.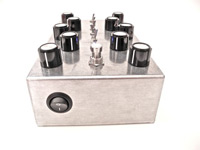 works with one 9volt-battery, mono input, mono output (6,3mm), dimensions:188x120x73mm, weight: ca. 1kg

new features: audio input with preamplifier, input cut switch, bypass push switch, untreated alu-case. all components are of high quality to last forever.

videos: