arturia
minibrute

price : $399.00
full-blast analog synthesizer

minibrute is a revolutionary new analog synthesizer from arturia. featuring a pure analog signal path and a host of unique features, it sets a new standard for what a hardware synthesizer should be.

its 100% analog audio signal path features a vco wave mixer, the classic steiner-parker multimode filter, as well as numerous analog innovations such as the metalizer, ultrasaw, and the brute factor™. boasting a complete midi, cv and usb connectivity, minibrute is right at home with your computer or your vintage synths, making it the ideal companion to deliver a pure analog blast anywhere you go.

main features:
monophonic synthesizer
100% analog audio signal path
steiner-parker multimode filter (lp, bp, hp and notch)
voltage controlled oscillator with sub-osc
oscillator mixer (sub, sawtooth, square, triangle, white noise, audio in)
lfo1 with 6 waveforms and bi-polar modulation destinations
lfo2 with 3 vibrato modes
brute factor™ delivering saturation and rich harmonics
ultrasaw generating shimmering sawtooth waveforms
metalizer bringing extreme triangle harmonics
two adsr envelope generators
25 note keyboard with aftertouch
rugged aluminium enclosure
external analog audio input
cv in/out controls: pitch, gate, filter, amp
midi in/out with 5-pin din connectors
usb midi in/out
¼" audio output and ¼" headphone output
gate source selection: audio input, hold, keyboard
arpeggiator: 4 modes of arpeggiation
4 octave range control
6 time divisions
swing control

100% analog power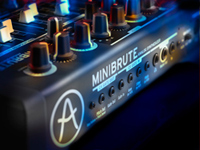 combining the renowned savoir-faire of arturia for designing professional musical instruments, and the expertise of synth "guru" yves usson in crafting the finest analog modules, minibrute is a revolutionary analog synthesizer.

minibrute was built with a simple goal in mind: offer great analog sound, through a very easy to use interface, and without ever compromising on quality.

the result of fine r&d and skilled craftsmanship: a 100% analog audio signal path, delivering huge basslines, screaming leads, outstanding arpeggios and fx's.

analog synthesizers of yesteryear are highly sought-after on the second hand market for their warmth, fatness, slight instability, and their unmistakable sonic character. digital synths, for their part, offer more possibilities but tend to sound sometimes sterile and loose musicians in endless menus and boring sound digest concepts.

today, minibrute comes as a bold statement, standing proudly among legendary analog machines like the minimoog, pro-one, sh-101, ms-20, and odyssey. minibrute brings the finest analog sounds as heard on iconic electronic records, whilst imprinting its own unique features and strong attitude.

hands-on heaven
forget about tiny lcd screens, forget about menus and sub-menus, forget about double functions and complex control. minibrute brings back the fun and the immediate hands-on experience of synthesis.

you want to make it stronger? grab the sub-osc slider and move it up. you want it brighter? grab the filter cutoff knob and turn it up. you want your sound to grow fangs and snarl like a beast? grab the brute factor™ knob and turn it up! it's that easy.

connect to the world
thanks to its full midi/cv/usb connectivity, minibrute is designed to fit seamlessly in any modern or vintage studio. midi in/out : sequence minibrute from your computer's midi interface and daw, or any other midi-out enabled gear you have. alternatively use minibrute as a master keyboard for your daw or other midi-enabled equipment.

cv in/out : chain minibrute to your vintage synthesizer, or modular, to get a beefier sound. expand, control and sequence minibrute from your vintage equipment. use minibrute to control your vintage synths (it conforms to the classic 1 volt per octave scaling system). use minibrute as a midi to cv converter.

usb in/out: sequence minibrute directly from your computer's daw without needing a midi interface. use minibrute as a usb-midi controller, use minibrute as a usb midi to cv converter.

audio in: process any external sound through minibrute's filter, vca and brute factor™ circuit. minibrute can be used as an analog powerhouse for adding warmth, grit and filter effects to drums, guitars, vocals, and more. it will alternatively generate automatic basslines from percussive sounds by switching the gate source selector to audio.

minibrute can also be used as a midi to cv gate interface, ensuring the link between your computer-based studio and your vintage gear.

sounds with an attitude
so what does minibrute sound like?

minibrute is certainly not capable of producing all the types of sounds, but it does very well what it is designed for : classic analog sounds, including powerful basses, hypnotic drones, screaming leads, acid sequences, ethereal monopads, 80's arpeggios, mind blowing fx's and fascinating sonic experiments.

if you are more into deep funky basses, mellow leads, clavinet or woodwind-like sounds, minibrute can produce them as well, but the danger zone is always at a twist of a knob...

your sounds, your attitude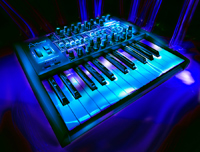 minibrute comes with no electronic presets. you build yourself every sound you hear. believe us, this is fun, this is creative and this helps make better music (and honestly, this is not harder than browsing sub-menus).

now of course you can still play sounds made by other programmers. and you can store your sounds. how is that ?

arturia delivers preset sheets that fit on the surface of the minibrute. following instructions set on the preset sheets, you get a preset sound in a minute. and if you want to store your sound, just take one of the blank sheets and write your marks.

download the manual here.